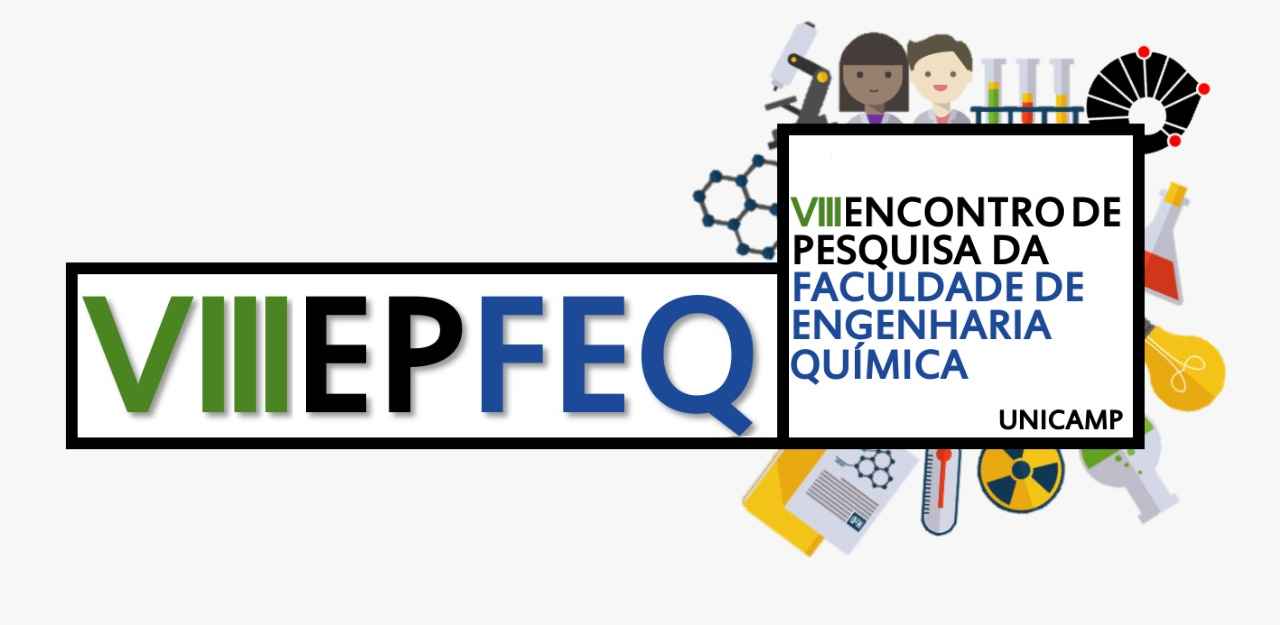 It is with great satisfaction that the postgraduate committee, after 2 Years of a pandemic return with the VIII Research Meeting of the Faculty of Chemical Engineering – EPFEQ. The event will take place on 17 e 18 of november 2022 Starting at 9:00h in person!
This event is organized by professors and students for the FEQ community and represents a unique opportunity to exchange points of view and learn about the innovative and multidisciplinary research being developed by colleagues.. As part of the program we will have lectures, space for the exhibition of oral works and mini-courses. The activities will be carried out at the FEQ facilities, a welcoming space for our resumption of face-to-face teaching.
Registration for participants and listeners begins on 25/10/2022.
• The deadline for submitting the abstract is 05 from November.
• Registration as a listener goes until 17 from November.
• Enrollment in mini-courses until 14 from November.
1place – Trophy + R$ 1.000,00
2place – Honorable mention
EPFEQ Organizing Committee 2022
president
Thais Sousa Almeida
Vice president
Bruna Gava Floriam
Coord. of Technology. of Information
Gilberto Ribeiro Pinto Junior
EPFEQ Standing Committee 2022
Coordinator
Prof. Dr. Sávio Souza Venâncio Vianna
DDPP representative
Prof. Dr. Ambrosio Florêncio de Almeida Net
DEMBIO Representative
Prof. Dr. Marisa Masumi Beppu
DEPRO Representative
Dr. Telma Teixeira Franco
DESQ Representative
Prof. Dr. Gustavo Doubek
Check out the event schedule:
17/11/2022
8:45h – 9:00h
Accreditation
9:00h – 9:30h
Opening ceremony
9:30h – 10:30h
Opening Plenary Conference (Entrepreneurship and innovation) – Professor Ana Maria Frattini Fileti
10:30h – 10:45h
Discussion
10:45h – 11:00h
Interval for Coffee Break
11:00h – 12:30h
Work Presentation
12:30h – 14:00h
Lunch
14:00h – 15:30h
mini course: Latex – Prof. Dr. Luis Fernando MercierFranco – FEQ / UNICAMP
14:00h – 15:30h
mini course: Introduction to X-Ray Diffactometry – Dr. André Navarro de Miranda – FEQ / UNICAMP
14:00h – 15:30h
mini course: Pollution Control in Chimneys – Dr. Wai Nam Chan – FEQ / UNICAMP
15:30h – 17:00h
PRH/ANP – Dr Mariana Conceição da Costa
18/11/2022
14:00h – 15:00h
Lecture: Horizons opened by graduate studies: from market research – Prof. Dr. Rodrigo Silveira Vieira – federal University of Ceara (UFC)
15:00h – 16:00h
Lecture on Capes Pandemic Project – Prof. Dr. Marisa Masumi Beppu
16:00h – 18:00h
Closing